The Storage Papers is a horror podcast.
Listener discretion is advised.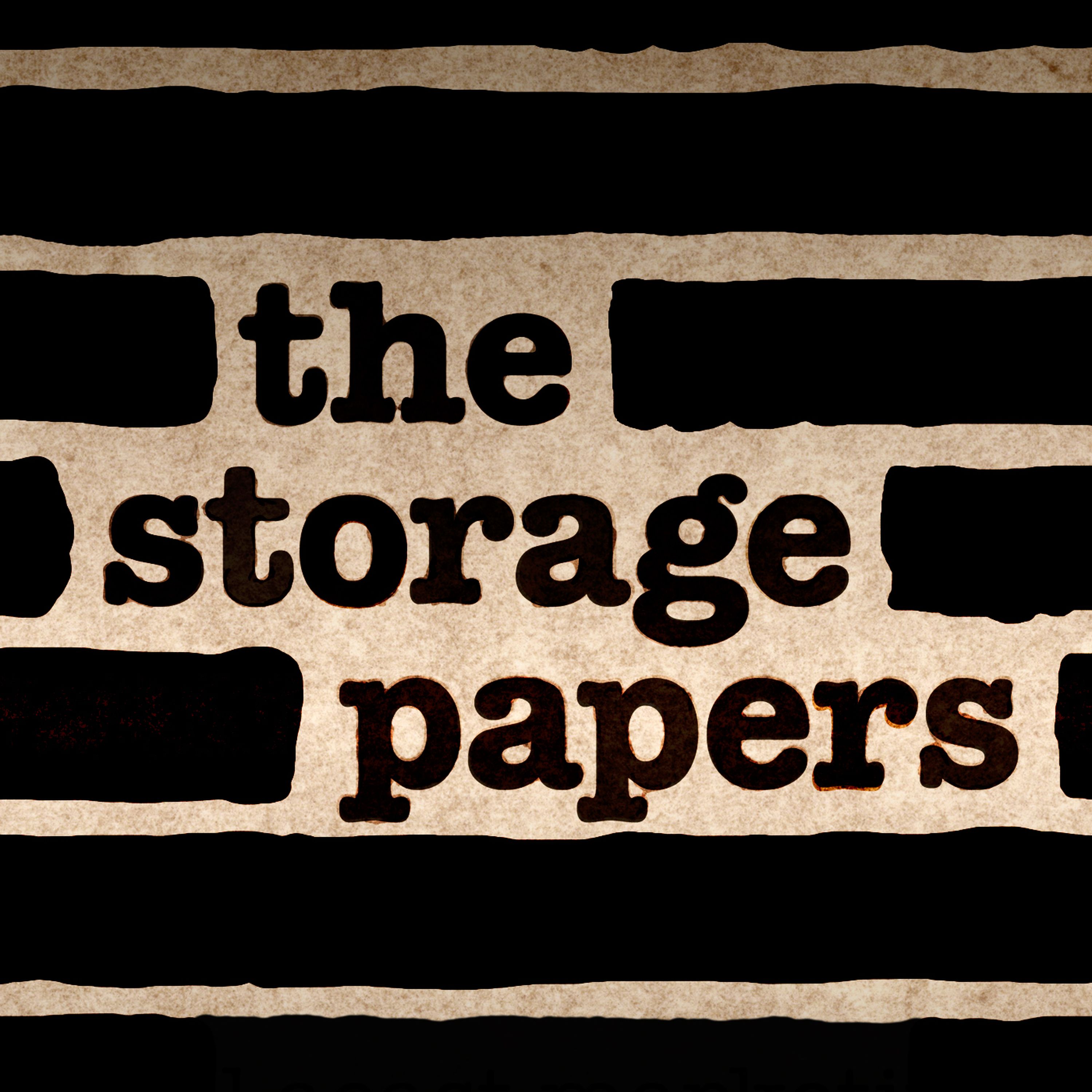 The Storage Papers
In July of 2019, Jeremy made the fortuitous decision to make the only bid on an abandoned storage unit. At first disappointed by no apparent treasure, what he discovered instead is a trove of the most extensive documentation of seemingly unexplainable events he's ever seen. Join him on his journey of discovery through the horrific, paranormal, and downright unusual events of each podcast episode and sink into the frightening reality that lurks just beneath the skin of our everyday lives. The Storage Papers is an independent podcast and runs solely on the fear and passion of its creators.
The Storage Papers Teaser 1
SUMMARY: Before this podcast goes into full production, it's important to understand how I became the owner of these documents, and why I've decided to share their contents. 
CREDITS:
This episode was written and performed by Jeremy Enfinger
Additional voice acting by JoeBugsMcgee
Sound effects and music by Zapsplat
Additional Episode Music, "Ghostpocalypse 8 Epilog" by Kevin MacLeod (incomptech.com), licensed under Creative Commons by Attribution 3.0. http://creativecommons.org/licenses/by/3.0/
ABOUT: The Storage Papers is produced by Grinner Media LLC. It's a fictional horror audio drama with episodes published every two weeks. Some topics may be sensitive for younger viewers. Transcripts and content warnings can be found on our website. For additional details, visit:
SOCIAL:
Thank you for listening to The Storage Papers. If you're interested in bonus content, we share some of the documents within the papers on a monthly basis that don't necessarily align with the main direction of Jeremy's story… at least, as far as he can tell for now. For those and some other exclusive rewards for your support, you can find our Patreon campaign at patreon.com/grinnermedia. Or if you prefer to support the show another way, find our Ko-fi page at Ko-fi.com/grinnermedia.
Search Results placeholder
Find us wherever you listen.
Enjoy the horror.
Keep yourself updated with what we're doing.
Join our newsletter!
Here's what people are saying…
Season 4 is a struggle

March 26, 2023 by Hunt2072 from United States

I've enjoyed this podcast through the first 3 seasons. Season 4 have gone off the rails a bit. Jeremy has become annoying and the foul language seems a bit forced. I'll try to finish season 4 but if it continues to deteriorate this will be the end for me. The fact that he's still having trouble asking for permission recording people is a bit irritating too.

Great

March 12, 2023 by Jenn187 from Canada

Really love this podcast. Fun to listen to and creative stories.

Very good

January 19, 2023 by Loganfool from United States

Very good and gets better. I hope to hear a lot more from this blossoming talent!

Great Storytelling

October 31, 2022 by Issa828 from United States

Love the whole podcast. The case files are entertaining and scary. Love the voice acting along with the music and backgrounds. Great job!

Simply amazing podcast

October 4, 2022 by WilsonFisk1605 from United States

It's October 2022 just discovered this podcast been catching up since the beginning and I will say this is totally awesome. Just well crafted and well done.

has its flaws but is still interesting

September 27, 2022 by rafflmao from United States

I'm just echoing a lot of what's already been said. It's enough to keep my attention but it's no TMA. Also GIANT groan at the way the narrator inserted himself into the story — it was poorly-contrived, not graceful or even believable, and poorly-written but it is what we have been sitting with for several seasons now so it is what it is. Though, seriously, the church scene when all the super friends get together to fight the big evil was stupidly convoluted. Also, not a big fan of Ron's backstory but I appreciated how out of left field it was because I saw that other S4 plot twist coming from 15 episodes away. Other things: the squelching and slurping noises are very unnecessary but for the most part have calmed down and the other audio is ok to me. Some of the stand alone episodes are poorly written. The one about the hotel maid or whoever she was with the zombies and the building burning down and she is telling the story from the perspective of a police confession… yeah that one. That was probably the worst standalone and the closest I ever came to unsubscribing (you really have to be more discerning a out your guest writers). But the main story is intriguing enough to keep my attention and I am caught up so it is worth it to me to check in for new episodes every few weeks. That said, I struggled with Jeremy's intonation for awhile and somehow it has just grown on me. I think I just know what to expect now so I'm less annoyed but it would have been nice not to have to have dealt with that for 3.5 seasons… anyway, 4 star because it honestly is still better than plenty out there…

Meh

September 4, 2022 by Luster99 from United States

It's no replacement for The Magnus Archives, but it's okay. There is a lot of unnecessary music that is very distracting and takes away from the story. The stories are definitely repeats of ones that you'll have seen on Supernatural or The X-File or heard on The Magnus Archives, but they're still presented in a mildly intriguing way. Overall, it's not great, but it's better than the radio.

Give it a chance

August 31, 2022 by LadyBlueJayy from United States

Came here from The Magnus Archives. Don't get me wrong. This isn't a perfect podcast, it's a little copycat to TMA sometimes, the production is okay, the narrators voice is a little monotone and the sounds used can be a little over the top (I don't recommend eating while listening to this.) But the individual stories have an M. Night Shyamalan vibe (if he ever decides to make found footage) to them. It comes across as what it's meant to be. It doesn't make for a good binge but it's a good, slightly gross, casual listen for fans of TMA or the found footage (or found audio) medium. Just give it a chance.

Yeet

August 29, 2022 by abc10waffles from Hong Kong

Gives the Magnus archive vibes 🙂

Love the individual stories, the rest lost me

July 1, 2022 by islandgirl120 from United States

When I started the podcast, I absolutely loved that it was individual stories…like a bunch of creepy pastas that are found in a storage unit. As the podcast goes on, the narrator becomes deeply involved in the overall story of where the papers came from…it becomes convoluted and started to lose me. I really love the stories, the writing, the narration…everything, but if you kept more to the original formula it would be a 5 star for me!

It's horror, folks

May 26, 2022 by Ben FYM from United States

Make no mistake—this is a horror fiction podcast, plain and simple. Terrible things happen, and people get hurt. It also has interesting characters, a complex, engrossing and thoughtfully-written plot and is absolutely worth a listen for fans of the genre. I'm glad to see such a high-quality podcast exists and am pleased to recommend it.

Spooky and fun

May 7, 2022 by Cursin Daily from United States

I don't want to spoil anything, just know that if you enjoy scary stories, you've come to the right place. Extremely well written and interesting. No complaints.

Just listen, it's great

April 5, 2022 by zombie0651 from United States

Don't look at any more reviews, it's great. Just put your headphones on and dive in. Just keeps getting better. I haven't enjoyed something this much since Tanis and the Black Tapes

Not a doc.

March 9, 2022 by Prosody lady from United States

This show is so realistic I have to keep reminding myself it's fictional!! Sound quality is a little glitchy. I am still in Season 2 so maybe that improves going forward Could benefit from more actors' voices—gets a bit monotonous but still very good. Prosody Lady

Great but hard to hear sometimes

February 17, 2022 by Starry eyed 44 from United States

This is a great podcast but sometimes the speaker sounds muffled and the sound effects are loud and clear. I'm on season two maybe the sound improves. It's not a deal breaker or anything like that the stories are interesting just wish audio was crisp

Season 3 Final

February 7, 2022 by hdhfjsjwjjdjd from United States

At the end of the last episode of season three we were told to look for a clue on the website. There was a strange glitched review at the bottom of the website. If you take all the capital letters from that review and then also the ending numbers and letters sequence. You will get a YouTube video that has the same title as the comment on the website. This video is just noises and sounds to me but if anyone figures it out please let me know.

So gooood!!!

February 3, 2022 by NannaHako from Denmark

If you like The Black Tapes, this will be your jam! ⭐️⭐️⭐️⭐️⭐️⭐️

Just The Right Amount Of Terrifying

January 25, 2022 by Ness_loves_horror from United States

A set of honestly spooky stories. Fans of horror anthologies will love this podcast.

Great Stories

December 11, 2021 by ocmnero from United States

Stick with the Podcast, while the reader and audio isn't what people look for , the writing and stories themselves are fantastic!

Awesome podcast!

November 17, 2021 by rukusbob from United States

Awesome podcast!

Fantastic Horror Anthology

October 26, 2021 by GracefulVengeance from United States

I came here fresh from finishing The Magnus Archives and this definitely scratched my itch for more of this type of content. I love anything creepy and unsettling and the narrator does a great job of carrying the stories. Highly recommend of you love creepy found tapes and mystery.

Different and Amazing

August 28, 2021 by Silkwolf from United States

As someone who has listened to creepy pastas, audio books, and all things creepy nightly for a decade, it is rare that i find something that holds my interest. I am particular when it comes to the voice of the narrator, the originality, the way they paint the picture with words, and the level of believability. This is one that checks all the boxes, and is among my top 5 podcast platform series. If you like the creepy, but not overly done, this is for you. Keep up the good work. I look forward to hearing more.

truly creepy

July 31, 2021 by sather86 from United States

i can't believe i've just found this podcast. it is simply incredible. keep doing what you're doing!!

Very Good

July 30, 2021 by Perturbed and Annoyed from United States

Highly entertaining!

Very strong season 1

July 9, 2021 by Chaotik_lord from United States

Just finishing up season 2, and I hope we aren't going to be seeing a romantic connection with Brianne or even more of her, really. The focus on Brianne has been the weakest part of season 2, kind of weighting the stories away from standing alone with a narrative thread linking them together, more to parts of one tale. The show gets under my skin (in a good way!) when telling those eerie, unsettling stories, leaving me with chills. I hope we will be returning more to this structure. I know it is not easy to keep churning out new short stories, so I get it, but still. No more Brianne, she is not intriguing nor interesting, and her surname (Scanlon; respectfully, it's odd) is grating; it literally distracts me whenever it is mentioned. The show is very good, and the sound and editing are tops. Thank you; I look forward t its future.

Great Horror

June 29, 2021 by nicksolottel from Australia

If you enjoy the formula of The Magnus Archives, you'll love this. There are some fantastic stand alone stories in here. Even if it doesn't always quite work when the stories are woven together, it's still a a great ride.

Excellent!

June 20, 2021 by annette pringle from Australia

This podcast is sooooo good , think Tanis or the Black Tapes .. paranormal stories and conspiracies. Absolutely binge worthy

I really enjoy the stories! But...

June 3, 2021 by Nintenja from United States

I feel like the "sound effects" end up being much louder than the dialogue in terms of audio levels, causing me to have to turn the volume up and down a lot. I'm only on episode 13, so maybe that's already fixed. Anyway, keep up the great stories!

Great anthology series (or is it more??)

May 27, 2021 by RatGrimes from United States

Very creepy series of inventive stories. Always fun hearing how they play out, compelling to the end.

Omg so good!

May 15, 2021 by Rnho from United States

Binged overnight. Sad I'm done. Love love loved it! Looking forward to more!!

Love it

April 16, 2021 by lao_tsun from Canada

Heard about you on A Voice from Darkness ! Very interesting, unique story idea, good writing, and I like the guy's voice it is easy to listen to. Great job overall, I don't like the sound of children in background in episode where he meets Ron, it's on a repetitive loop yet plays at random - but that was a early episode and I know it's hard to use sounds effects that aren't copyrighted, keep up the good work.

Spooky!

March 11, 2021 by Sam&Pepper from Canada

I subscribed to this a few months ago but never listened to it. I finally got around to listening to a few episodes in a row and now I'm hooked! Spooky, great narration, and a few creepy sound effects without being cheesy. Love the documentary/investigative angle.

Well written

February 19, 2021 by KMWilkins from United States

The story is well written and a little spooky/ creepy. Received 4 stars because the show is ordered from 10 to 1 instead of 1- 10 (example) causing listeners to stop what they are doing to make sure they aren't going to repeat an episode.

Well written, story driven podcast

November 29, 2020 by Adrienneinaustin from United States

This had an interesting premise, was a little creepy, and managed to pull me in and hold me. So many podcasts rely on "over acting" to compensate for weak stories, there was none of that here.

Amazing Podcast.

November 12, 2020 by ectogoop from United States

I don't usually get into podcasts easily, but this one gave me goosebumps ! Had me looking over my shoulder a few times too. I can't wait for the next season and cannot recommend this enough !

Great Story

October 24, 2020 by Daveiii from United States

Similar to the Magnus Archive, the Storage Papers has a good balance of monster of the week and larger, ominous narrative. Even the monster of the week episodes have connections. Really really great podcast for fans of well written horror

Dumb but enjoyable

October 9, 2020 by capgamer from United States

Mysterious documents, paranormal activity, and grinning strangers. if you're a sucker for this stuff as I am: here you go!

Good but flawed.

October 4, 2020 by Mama Bear Ashleigh from United States

I just finished season 2 (10-3-20). I found this similar to Limetown or Darkest Night. The short stories of each episode are quite intriguing. If you don't think too critically, it's pretty decent. I found a few things that took me out of the experience. The pauses to play music at a "dun-dun-dun" moments cut the narration and went too long which broke immersion for me. And in some of the documents supposed to be police reports or such were too detailed as a report from the perspective of some one who just experienced trauma. However the descriptions of the scenes were well written and allowed you to visualize it all in your head, but a person in flight or flight mode would not usually recall such details. Once the religious aspect of demons or the similarities of Hydra to MK Ultra were brought in, it kinda lost me as well. That all being said, I gave a listen all the way through just to see if my expectations would be subverted and give it a chance to maybe steer away from those tropes. The parts that are good are good, the parts that are bad are noticeable. So I still give this podcast a high rating, because despite its flaws, I still wanted to listen. I look forward to see what season 3 will bring and how things get tied together.

TBT wrap up music?

October 1, 2020 by princess taiga from United States

I'm fairly sure that the music at the end of the episodes is the same used in The Black Tapes as their "wrap up" music. Not sure if the music rights are simply purchasable, or if the listener-insulting ending to TBT forfeited any rights they once had. Either way, for a single voice actor (I'm only finishing season 1) I'm pleased. This sounds and may be vain, but there are many podcasts that I cannot endure listening to because of a whiny narrator, or one whose voice I dislike for some personal reason. I enjoy listening to your voice here, though I don't know how much control you have over that. Anyway, great job.

Deliciously Creepy

September 16, 2020 by Poochensens from Germany

Softly voiced, mild mannered, family man begins reading files found in an abandoned storage unit and tumbles down the rabbit hole. Presented as unconnected case files, one per episode, it quickly becomes impossible not to see the web of connections between them. And him.

Phenomenal!!

September 11, 2020 by heidi greensides from United States

I found this podcast from a recommendation on another podcasts Facebook group. I've been binging over the past few days and I am thoroughly enjoying it. The stories are expertly written, the sound effects bring the story to life and they are exquisitely disgusting *chefs kiss*. I can't wait for season three! Keep up the good work!

10/10 would subscribe again

September 9, 2020 by Kira Smith from United Kingdom

Clever, spooky, and original. Nice subtle sound design.

Creepy!

September 4, 2020 by Ashley6568 from United States

Highly addicting and creepy podcast of short horror stories!

Brought a grin to my face

September 1, 2020 by spearmintbun from United Kingdom

I found this wonderful podcast during the great lockdown of 2020. I'm always looking out for something to capture my attention and this did that. The combination of story, music and delivery is just right.

Great suspenseful stories!!

September 1, 2020 by Pooart Lee from Australia

Absolutely addictive! It feels like the spiritual successor to Black Tapes Season 1. If you like paranormal stories, you will enjoy this!

One of the best of its kind!

August 28, 2020 by Geo91Str from Canada

I love "The Storage Papers"! The podcast has a great overarching theme and the stories explore various genres without being limited to a set type of stories. Both seasons are excellent and they give you enough information to hook you and to want more and more! Congrats to everyone involved with this project. I hope it continues for a very long time! And I hope that season 3 is in plans soon!

Creepiness abound!

August 25, 2020 by formerATT from United States

It's like Christmas morning with all these episodes! ABSOLUTELY WORTH THE WAIT!

I like it

August 7, 2020 by Sofrub from Denmark

Id you like 'The Box' you'll like this too

It creepy and I love it

May 28, 2020 by Code name [BLACKOUT] from United States

It mysterious it creepy it has a story all good thing for a horror podcast

Love the premise

May 25, 2020 by the real Martha from Canada

Waiting for additional material. Very interesting podcast. Love it.

Well done

May 22, 2020 by Bachpants from United States

Super cool

Intriguing tales of the paranormal

May 5, 2020 by Doc TOC from United Kingdom

This is a clever little show. The tales are intriguing and suitably eerie. The dry delivery and the central conceit of "found materials" make an interesting framework for the stories. I'm hooked.

Awesome

April 15, 2020 by VividImagination from United States

I love this podcast so much. It has great stories, and the story telling is wonderful! The sound quality and use of sound effects are fantastic as well. Season 2 just started coming out and I am enjoying it a lot. It pretty much tells a story per each episode, but there is an overarching mystery. I would recommend this to almost anyone!

Chills !

April 5, 2020 by mzi024 from Belgium

Amazing ! Chills! Can't wait for more .

Detailed Drama

March 25, 2020 by Miss Hijinx from Australia

The story begins with the discovery of old files in a storage unit detailing paranormal & unexplained phenomena. The narrator, Jeremy shares the detailed & investigative accounts of a private investigator that have recorded the strange & unusual. Reports that are voluminous & date back decades. You immediately become invested in the suspense filled adventures, perched on the edge of your seat, eager to find out what happens next. Full of mysteries, some that may never be unravelled & ones that may put our narrator in mortal danger. This team have produced a work of excellence. A high calibre production with captivating storylines. The talented narrator puts his own life at risk to share these forgotten colourful mysteries , bringing them vividly to life. Exposing to the light documents that had been left to collect dust. I particularly appreciate the show premise of unexpected discoveries; archives of content, awaiting someone to discover, piece together further & share. If you enjoyed other paranormal mystery audio dramas that are also based upon unexpected discoveries such as : Angel of Vine Motel Americana The Box The Dead Letters Podcast A Scottish Podcast Video Palace Paralysed I believe you will like this show ! Do subscribe & support this talented team through Patreon. Fuel their motivation to continue to deliver more episodes of this Saga with enthusiasm.

One of the best!

March 18, 2020 by Witchy_Hazel from United States

This podcast is amazing!

Better late than never

March 13, 2020 by Kaleighmackay from Canada

I always discover podcasts long after they've first launched - but hey at least I'm here now. I am liking the topics, narration and variety.

Great stories with creepy galore

March 11, 2020 by BrTmKl from United States

I've only listened to a handful of episodes but I've thoroughly enjoyed them all The overall tone is fairly "cold" I'd day, but that's fitting for the setting and if you don't mind more of a "detached" narrator, some of these stories are just downright scary I especially enjoyed the play on words of the wisdom title "Old Timer"

Good-creepy stories

February 3, 2020 by Calenchamien from Canada

This podcast has the feel of The Black Tapes, but with more varied content and a less abrasive skeptic stance from the narrator. I'm not a huge fan of how the sound effects are included, but I think the podcast is well worth listening too

Very well done

January 15, 2020 by jezthepez85 from United States

Audio quality is great. Stories are intriguing. Host is great at keeping you wanting more. Must listen!

Worth a listen

January 10, 2020 by Zoostationtx from United States

A little rough around the edges but the premise and stories make up for it.

This is a must listen if you're a horror fiction fan

December 16, 2019 by N Battle from United States

Horror fiction is my favorite podcast genre. I have been listening to NoSleep and Creepy for years. Just stumbled upon this and I was hooked from the first episode. It's simple and straight forward and most importantly the stories are actually way creepier than I had anticipated. Highly recommend!

Amazing podcast

November 27, 2019 by DizzyMouse123 from Canada

Super well done podcast, it's really engaging! I like spooky podcasts and find it difficult to find ones that aren't cheesy or overly scripted, this one is absolutely 10/10.

American Magnus?

November 12, 2019 by RiffTheJet from United States

The first episode freaked me out so much... The concept of "Storage Papers" reminds me of the pseudo-anthology series "The Magnus Archives", one of the greatest surreal-horror podcasts. If this show keeps going on like it has, COUNT ME IN! The variety of frights within the Papers has me hooked, so I hope they'll be around for a long time to come.

Great new podcast

October 18, 2019 by tinytowerluvr!! from United States

Super interesting, not far in but already I'm loving it. My favorite podcast of all time is the Magnus Archives and this is a great way to fill that need for listening to creepy paranormal files.

Enjoying it

September 22, 2019 by Emariewallis from United States

Fantastic first few episodes. Keep them coming!

Great first episodes

September 16, 2019 by Punker101 from Canada

Really enjoying this podcast. I work midnights so it pairs well with that. Keep it up!

Woah

September 6, 2019 by Laymonater from United States

This show is CREEPY! The subtle and horrifying sound design paired with the subtle narration and stellar writing makes for a completely unpretentious and horrifying horror experience. Me and my wife loved this and it didn't take long at all for it to grab us. Can't wait to hear more, but I need to recover from the first episode for a while.
Twitter feed is not available at the moment.